I speak to my plane-crash daughter daily
Daily Express
By Lucy Benyon

FOUR years ago Kimberly Klein received the call that would change her life for ever. It was to say her only child, daughter Talia, was missing on a plane in Panama. It came two days before Christmas as Kimberly, now 45, was waiting for 13-year-old Talia to return from a trip to South America.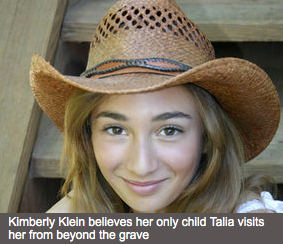 "I had just finished watching Black Beauty on television and I remember thinking how much Talia would love that film when the phone rang," recalls the American author.
Her former father-in-law Bob was on the other end of the line. He told Kimberly that Talia was missing along with her 12-year-old best friend Francesca Lewis, known as Frankie. Also missing was Talia's father, Kimberly's ex-husband Michael, 37, a high-profile hedge fund manager and multimillionaire.
Michael owned an eco-resort close to Panama's Pacific coast and had taken the girls there for a short break.
On their last day he had booked a private jet to take them on a sightseeing trip around the Baru volcano before flying the girls back to California. They had been due to call at a friend's coffee farm afterwards but hadn't arrived.
"There were a few seconds of terror then I went into focus mode," says Kimberly. "There was no time to panic. I knew I just needed to get to Panama as quickly as possible. I had to find her."
I was terrified. It was Christmas Eve and nobody seemed interested in finding my daughter. I felt like I had landed in some horror film.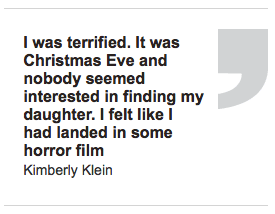 Within a couple of hours she was on the first available flight to Panama, alongside Bob and Frankie's family. "I knew when I landed there would be a text from Talia telling me where she was. She was a very composed, level‑headed girl."
Kimberly had brought her daughter up to be strong and independent, qualities she felt sure would protect her from danger. "We were so close," says Kimberly, who gave up a successful business career to bring up Talia.
Mother and daughter had forged an incredible bond made all the stronger by the fact that Michael walked out when Talia was only nine months old.
Highly intelligent, articulate and polite Talia was wise beyond her years and popular with her peers. "We would talk about absolutely everything. Our relationship was one long conversation," says Kimberly.
They knew how to have fun too. Horse-mad Talia would compete in shows all over the States and Kimberly loved taking her to competitions.
"Talia had her own horses and Michael's business success meant she had a lot of opportunities but she never took anything for granted. She was always appreciative and mature."
It was this maturity that Kimberly believed would bring her daughter to safety.
Yet as her flight landed in Panama City she was stunned to discover there was no message on her mobile from Talia. Worse still nobody had organised a search party.
She then learned that Michael, whom she describes as a born risk taker, had flown into a storm with a 23-year-old pilot called Edwin Lasso, who was known locally as "Dr Death" due to the number of accidents he'd had.
"I was terrified. It was Christmas Eve and nobody seemed interested in finding my daughter. I felt like I had landed in some horror film."
Kimberly decided to offer a $25,000 (£15,700) reward to whoever discovered the plane.
Yet it was only the next morning that a search got under way. By then the plane had been missing for the best part of two days. Eventually reports came in that it had been found close to the volcano where it had crashed.
"I remember one of the rescue guys telling us that a young girl had been found alive," recalls Kimberly. "I just felt it had to be Talia."
Shortly afterwards another rescuer pulled up in a van. "He said he knew the name of the girl who had survived.
"I remember looking at Frankie's mother Val and time just freezing. It took every ounce of strength to stop myself from throwing up."
The girl the rescuers had found was Frankie, the only survivor. Talia, Michael and the pilot died instantly in the crash. Miraculously Frankie had been discovered curled up in the plane's crushed cabin. She was delirious and badly dehydrated but somehow she'd come through the crash with only superficial injuries.
News reports from around the world dubbed her survival as a Christmas Day miracle.
Kimberly remembers spending most of the following day staring into space. "That afternoon I was lying down when I felt a light touch on my wrist. I just knew it was Talia," she says. At that moment she got a call from her friend Rebecca, a medium. "She told me Talia had been in touch with her. She wanted me to get her bracelet."
Talia also wanted Kimberly to know how much she loved her. She told Rebecca she and Michael had kept Frankie in a daze to protect her because it wasn't her time.
Arriving back in California with her daughter's ashes Kimberly knew her life could never be the same again. "People were incredibly kind but nothing could change the fact I was no longer Kim, Talia's mum. I was Kim the mother with no child, the person who no longer had any idea what to do or say."
In the midst of her grief there were moments of elation. On the day of her memorial service she says Talia got in touch with another of Kimberly's friends to say she was OK. Later that day Talia told Rebecca she had enjoyed the DVD of her riding her horse which Kimberly had played at the service.
After that messages were relayed to Kimberly almost every day. On one occasion Talia told her mother to look out for hummingbirds.
"In one instance it was pouring with rain and this little hummingbird was outside my window," she recalls. "I said out loud, 'Talia is that you?' It has to be because hummingbirds don't usually fly in the rain."
Talia's constant spiritual presence guided Kimberly through a traumatic time. Due to financial pressures she had to move from the home she had shared with Talia. She also lost a court battle to sue Michael's estate for wrongful death.
"During this most devastating time of my life I actually had a great deal of peace. I knew Talia was still with me."
Four years on Kimberly still gets regular messages from Talia and she can now feel her daughter's spiritual presence herself. "She is even more amazing and alive than she was with me here on Earth."
Understandably Kimberly still misses her. "I cry for her most nights," she whispers. "But at least I can still talk to her. Talia might not be with me in person but she is still my daughter and I will always be proud to be her mum."
To order Hummingbirds Don't Fly In The Rain (PMA Press) visit amazon.co.uk or kimberlyklein.com. Prices start at around £10 plus delivery
Interview by LUCY BENYON