Angel watching over:
Author chronicles Christmastime loss of her daughter as a means to help others
Santa Barbara News-Press
By Brett Leigh Dicks, News-Press Correspondent

The holidays are traditionally a time for celebration. But for Kimberly Klein, there's nothing festive about this time of year.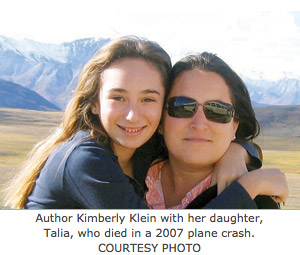 On Dec. 23, 2007, a small plane carrying three local residents disappeared into a Panamanian jungle. On board were Ms. Klein's daughter, Talia Klein, 13, her ex-husband, Michael Klein, 37, and her daughter's best friend, Francesca Lewis, 12, along with their 23-year-old Panamanian pilot, Edwin Lasso.
Two days later, the wreckage of the plane was discovered and Ms. Klein was informed that Francesca was the only survivor.
Given the tragic loss four Christmases ago, it will be difficult for her to ever celebrate the holidays again.
"Honestly, I hate them," Ms. Klein, 45, told the News-Press by telephone on a visit to the East Coast, when asked what the holidays now mean to her. "It's a very difficult time. I don't really care for the season at all right now.
"I probably never will. But I get through it and that's something I want other people to know, that they can get through it, too."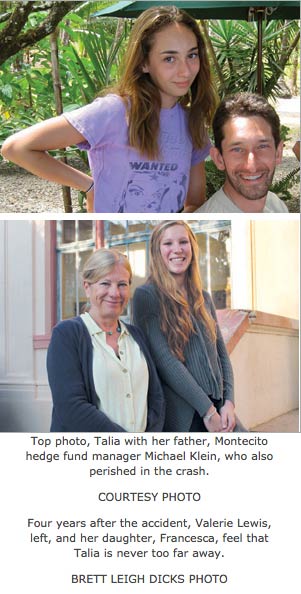 Ms. Klein, who left Santa Barbara after the crash, has recently chronicled the events surrounding the death of her daughter and ex-husband, whom she divorced in 1997, in the book "Hummingbirds Don't Fly in the Rain: A Mother's Extraordinary Search for Her Daughter — in This Life and the Next."
The self-published memoir poignantly documents the author's experiences during the seven days immediately after hearing of the plane's disappearance.
"I was at home in Santa Barbara," Ms. Klein recalled of the phone call she received from her former father-in-law, Robert Klein, informing her that the plane had failed to reach its destination. "All I could think about was getting to Panama."
Prior to departing for Los Angeles International Airport, Ms. Klein was faced with the arduous task of telling Kirk and Valerie Lewis that their daughter, Francesca, who, along with Talia, attended Crane Country Day School, was also missing. Mr. and Mrs. Lewis also headed to Panama.
Michael Klein, a hedge fund manager from Montecito, had chartered the plane for a short flight from Islas Secas, an island resort he owned in the Gulf of Chiriqui, to the mountainous coffee-growing region of Volcan, where a colleague operated a coffee plantation. The Cessna 172 disappeared from Panamanian radar prior to reaching its destination. The girls were vacationing with Mr. Klein, who often traveled to the area for business.
As the family members of the three missing Americans arrived in Panama the following day, news of the plane's disappearance began to break. Not only did Ms. Klein have to deal with a search-and-rescue effort that was being hampered by bad weather, she was at the center of an emerging international story.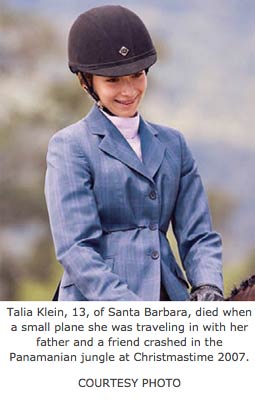 "That was all tuned out for me," Ms. Klein recalled of the brewing media attention. "I was in such a state of shock that I only noticed momentarily when the media was around. However, I couldn't help notice the nonstop phone calls.
"But I was so tuned out of reality that it didn't really faze me that there was so much going on in the world about it. I was only concerned about what was happening there."
With air surveillance grounded due to poor visibility, search efforts were undertaken by foot. The frigid temperatures, rain and winds meant that time was of essence for finding survivors, so, as a way of enticing more volunteers into the jungle, Ms. Klein offered a $25,000 reward for whomever found the plane.
On Christmas Day came news from the jungle that searchers had found a survivor trapped in the wreckage. Two days after its disappearance, the plane was found suspended in tree tops on the side of a remote mountain. More news started trickling through. The fraught parents learned that the survivor was Francesca.
The inaccessibility of the crash location meant it was another day before rescuers were able to transport Francesca to safety. Having been found close to death as a result of crush syndrome, a condition that causes shock from injuries related to being crushed, she was also suffering from severe bruising, dehydration and hypothermia and was hospitalized in Panama before returning home to Santa Barbara with her family a week later.
"We got lucky," Mrs. Lewis, 56, told the News-Press on Wednesday, sitting on a bench outside Santa Barbara High School, where Francesca is now a junior. "The odds of finding the plane were so small. It was on the side of a volcano at 8,500 feet in virgin jungle. It truly was a miracle that defied the odds. The people that found it were guided by some kind of inner vision."
They had no idea about the reward money.

The accident and its aftermath still haunt Francesca, who is now a tall and confident teenager. She believes the experience has offered her a different perspective on life.
"I still think about it, especially at this time of year when I think a lot about Talia and our friendship," Francesca, 16, told the News-Press, tears welling in her eyes. "It has changed a lot of things in my life. It has definitely made me a lot stronger. It has also made me a lot closer to my family and my relationships with friends have become a lot stronger, too."
Even when Ms. Klein received the news that Francesca was the only survivor, she still had hope. The plane was suspended in trees so how could rescuers be certain that the other passengers were not just unconscious?
"For a while, I wouldn't believe it was true," Ms. Klein explained of the news of the deaths.
But as more reports drifted in from the crash site, her world began to change.
"I remember lying on the couch in my makeshift bedroom when I had just realized that it had to be true and Talia was gone," Ms. Klein recalled. "I was in shock. I was in a state where I was in and out of sleep and all of a sudden I felt a squeeze around my wrist.
"It was so obvious that I snapped out of my haze and I realized that it was Talia. From that moment on, I was opened up to a whole other world."
Shortly after experiencing the sensation, Ms. Klein received a call from a friend. The friend had been consulting with a medium who had apparently reached Talia. The distraught mother contacted the medium. She said the connection she formed with her daughter through the medium helped ease her through the anguish that had consumed her until then.
"As these messages progressed, and I cleared my mind and opened myself up, I realized Talia is always with me," Ms. Klein explained. "And that took me out of the trauma of grieving. She helped me get through my grief."
The name of Ms. Klein's book was inspired by other signs she received from Talia, she said. Hummingbirds kept appearing to her, even in the rain.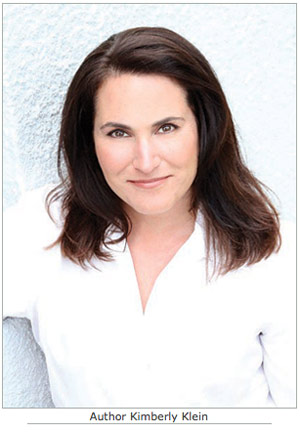 She has recently turned her attention to assisting others who have lost loved ones get through their grief. In addition to "Hummingbirds Don't Fly in the Rain," she has authored and released a second book, "The Universe Speaks," a journal of the conversations she said she has shared with Talia since the accident.
"The only ingredient to hearing is belief," Ms. Klein said. "You just have to believe that it's possible. It's a deep belief and if there's any doubt, it won't happen. So you need to be aware and then acknowledge the feelings you receive."
Ms. Klein now lives in the Nevadan desert, about an hour west of Las Vegas. Having returned to Santa Barbara after the accident, she soon found the memories the city contained too overwhelming to deal with and subsequently relocated to Nevada to be closer to her brother.
"I needed to get away, Ms. Klein said. "As I came out of that period of shock, the realization hit me that everywhere I went in Santa Barbara was somewhere Talia and I had been and that everyone I knew, we all knew.
"Everywhere I went there were memories and reminders and that was difficult."
Her goal is to now share Talia's messages with the world and to help others heal.
"I also want to create a healing center," Ms. Klein said. "Somewhere people can come for physical and spiritual healing. I want to help other people who are grieving for loved ones."
email: life@newspress.com
FYI
Kimberly Klein's memoir, "Hummingbirds Don't Fly in the Rain: A Mother's Extraordinary Search for Her Daughter — in This Life and the Next,"and its companion book, "The Universe Speaks,"retail for $16.95 and $19.95, respectively, and are available at Chaucer's Books, 3321 State St., or through the author's website, www.kimberlyklein.com.